Horseshoeing & Farrier Services
Horseshoeing, Trimming & related Farrier Services
724-840-8389
Phone & TXT msg.
Offering Reliable and Dependable Horseshoeing and related Farrier Services.
Serving areas of Indiana and Armstrong Counties and surrounding areas of Western Pennsylvania.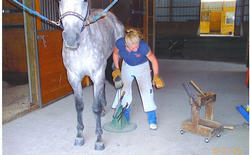 Horseshoeing, Trimming and Related Farrier Services.
My name is Debi and I offer professional Farrier services in Western Pennsylvania. I am certified and have practiced Equine Anatomy, Physiology, Handling, and Forge work.
I am experienced in the following disciplines;
Horseshoeing & Trimming

Lameness & hoof therapy

Theraputic shoeing & trimming
I travel in the following areas of Pennsylvania;
Indiana, Homer City, Brush Valley, Rural Valley, Shelocta, Saltsburg, Slate Lick, Kittanning, Ford City, Worthington, Marion Center, Home, Creekside, Tarentum, Karns City, Vandergift.. My territory is about a 50 mile radius around the town of Kittanning.
E-mail me if you do not see your town.
E-Mail .... pahorseshoes@google.com
Please feel free to e-mail me with ANY horseshoeing or Farrier questions that you may have. I will do my best to get you the most updated information that I have.
TRIMMING SCHEDULE
SPRING every 4-7 weeks
SUMMER every 4-6 weeks
FALL every 6-8 weeks
WINTER every 7-11 weeks
The above is just a general guideline. You MUST discuss with your Farrier the specific schedule that meets the needs of your horse and your riding discipline.
Keeping a regular trimming schedule is paramount in keeping your horse happly and healthy for many years. Its a simple and affordable act that benefits your horse tremendously.
When your horse is HAPPY then, you are HAPPY!!!
PaHorseMall.com - Your tri-state horse network.
Horse sales, horse equipment, business directory, wanted ads and MUCH more!